Welcome to our Army Shop !


In our Army Shop you can find various ARMY goods and products, as are : Army and Military clothes, shoes, camo clothes, hunting and pocket knives, machetes, binoculars, backpacks, cases, bags and others ARMY and Outdoor equipment. The selection in our store is really huge !
If you are looking for Army and Military equipment and clothes, you are in the right spot, because we are offering everything, what do you really want. Offer in our Army Shop is mainly focused on camo clothes, camo trousers and T-shirts, army and military backpacks, tactical and fishing vests, shoes, hats, binoculars, etc. If you want to buy some accessories, you can choose from : caps, hats, helmets, gloves and scarves, sleeping bags, tents, camping tables and chairs, neckwears, flashlights, knives, machetes and others survival and tactical equipment to the nature.
Our regular costumers are security guards, foresters, tourits, mushroom pickers, fishermen, and of course other satisfied costumers. Please, come to the our e-shop and you will be satisfied too.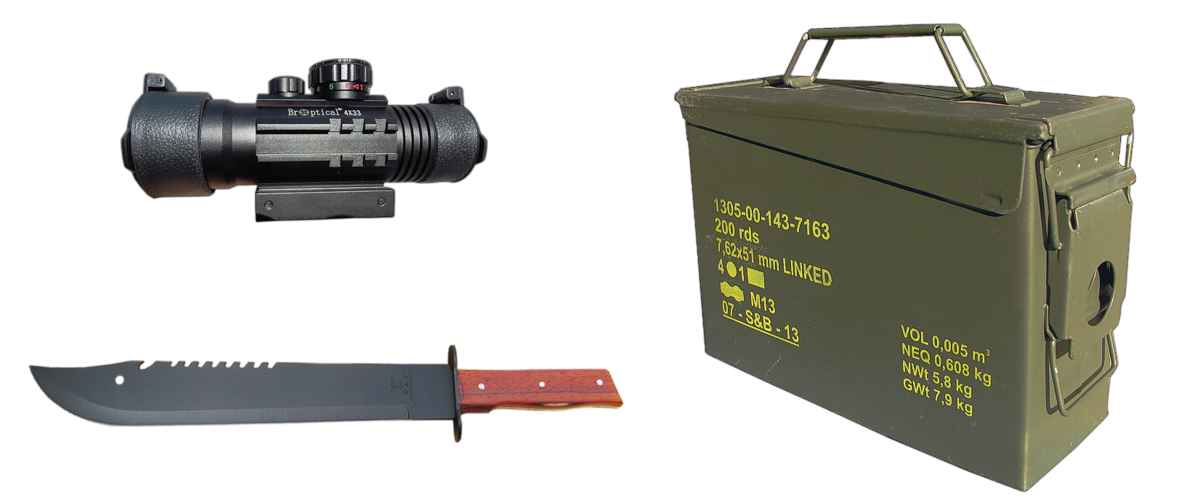 Complete specification of some products:
---
Camouflage backpack tactics CAMOUFLAGE MULTICAM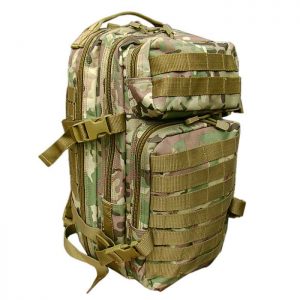 dimensions : height – 45 cm, width – 25 cm, side width – 22 cm
volume : 20 L
weight : 1,20 kg
material composition : 100% PES
specification : durable tactical backpack with two main chambers and two front pockets, all with double-zip fastening
inside the backpack are 2 pockets, suitable for documents, maps, etc.
place for the water bag in back part
shaped and adjustable shoulder straps
practical handle to carry a backpack in the hand
the rucksack is made of water repellent fabric, which is characterized by high abrasion resistance and predestination
Whole BackPack offer you will find in our shop.
---
Field bottle with dish camouflage MULTICAM
volume : 1 liter
material : bottle 100% polyethylene, case 100% polyester, dish aluminum
specification : 1 liter plastic bottle of US type with aluminum dish in nylon case where the insulation keeps the drink longer in the hot or cold state
the case with a practical pocket on the side can be attached to a belt or rucksack using two ALICE clips
---
Field camouflage bag Oak green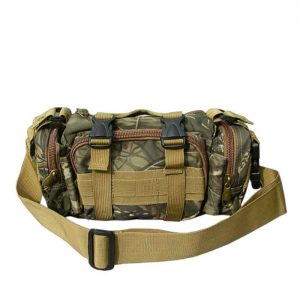 dimensions : height – 18 cm, length – 33 cm, side width – 9 cm
specification : a practical one-chamber bag, for little equipments, masking of the oak forest
one big zipped pocket on the front, two side pockets with zipper
a small pocket without a zip inside bag
waterproof field bag in the hand
equipped with a MOLLE system
---
Eshop offers:
Army: hunting knives, pocket knives, machetes and chisels, throwing knives and axes, multifunctional and versatile knives. Accessories for airsoft and paintball, alarm, gas and degraded weapons, matches, expansive ammunition and various pyrotechnics, military ammunition case and other accessories, masking nets and camouflage accessories or binoculars, collimators and lasers from the army optics and of course, we offer defensive sprays and paralyzers, telescopic batons and other military equipment in the self-defense category.
Outdoor: backpacks, cases and rucksacks, bags, field bags and various tactical equipment in the nature, compasses, body heaters, paracord bracelets, various lighters and corkscrews, survival packages, universal survival cards. In addition, for a long stay in the countryside, we offer camping tables and chairs, tents, sleeping bags, flashlights, etc.