Men's camouflage Clothes and Army clothes

In this category we offer various men's military clothing. At the top of the body, you can choose different comfortable and stylish jackets, t-shirts, polo shirts, shirts, vests, long sleeve shirts, sweatshirts, sweaters, warm jackets and more. There are also oversized sizes on selected pieces of clothing.
At the bottom of the body we offer tracksuits, trousers, shorts, but also underwear. Choose the right pants to the forest, fish or other activities. We have colorful patterns like oak snow, digital, woodland, night camo, tactical and others.
---
T-shirt LOSHAN camouflage HARWOOD M3 maskace

very nice, high quality T-shirt in 3D design
size: S, M, L, XL, XXL, XXXL
material: 80% cotton, 15% PES, 5% spandex
specifications : camouflage t-shirt made of material which ensures good sweat absorption
suitable for the summer period
t-shirt suitable for airsoft, paintball, but also for everyday wear

---
Camouflage Clothing Set LOSHAN OAK GREEN REALTREE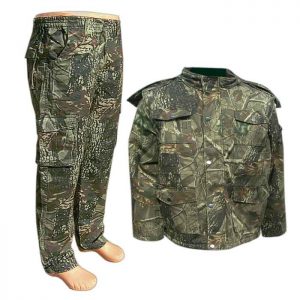 material composition : maskace
trousers – 65% cotton, 35% polyester
jacket – 35% cotton, 65% polyester
lining: 100% polyester
trousers specification : camo maskace favorite camouflage pants with 3D theme of forest trees, suitable for cold weather, warm to the touch with a pleasant fleece lining
jacket specification: sport jacket with a theme of green oak forest, lined with high-quality thermal lining, suitable for winter or transition period
suitable for fishermen, hunters and nature lovers

---
Trousers LOSHAN JEANS WEAR BEIGE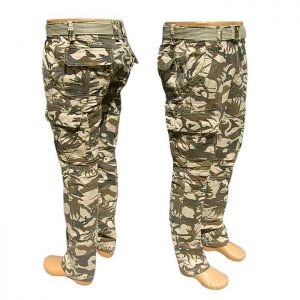 material composition and grammage: 100%, 250g / m2
weight : 1,1 kg
specification: High-quality cotton pants suitable for nature, for military sports and airsoft, paintball, etc.
2  front pockets
2 back pockets with fla ps
2 large side pockets with flaps
at the buttom are tightening laces
a solid belt with belt loops
---
Shop the latest men's clothes from the best designers. We have  shirts, t-shirts, hoodies, casual wear and many more all at the lowest prices. Also, we have Outdoor and Army equipment in our our shop.